the Special Offer of the 1st Anniversary
Have you used meviy yet? Now is your chance! ​
meviy is an AI platform for components procurement that has helped more than 100,000 equipment designers around the world create more efficiently. 
NEW : CNC- Milling & Turning Parts
September 5th Turning Parts are available via meviy!
Use meviy to quote CNC- Milling & Turning Parts in new shapes, expanding the on-demand offering. 
Material: steel, stainless steel, aluminum and copper​
Diameter up to 300mm and length up to 1000mm​
Surface treatments from nitriding to phosphating​
Heat treatments available
See the price and delivery time within 2 minutes for CNC turning and milling parts , sheet metal and resin parts
​*Shipping days change according to the material, quantity, size/shape and treatment. Please refer to meviy's instant quotation for the accurate shipping date.​
Trusted by 330,000 companies* - WHY meviy?
"When meviy first came out, I compared costs with local shops and meviy had them beat. They were probably at least half of what the local was."
David Mackey, MasterBrand Cabinets
"If I take 10 parts and send them down to a machine shop, it'll take them a week to get me a quote. With meviy, I have a quote within two minutes."
David Mackey, MasterBrand Cabinets
*MISUMI customers worldwide as of September 2023​
How it works

No installation required
You can use meviy immediately with your MISUMI Corporate Account.
No MISUMI Corporate Account yet? Register now
About the Special offer
The special offer with 20% off all meviy components will be held to celebrate the 1st Anniversary of meviy in America. Part numbers quoted during the campaign period can be purchased at a discounted price even after the campaign has ended.​
Take advantage of this special offer to "turn" up your productivity and save costs with meviy's easy and instant quotations!​
Offer

Period :​
Tuesday, September 5, 2023 to Friday, November 17, 2023​
Discounted Components:​
All components quoted with meviy during the offer period​
meviy FA Mechanical Parts​
Sheet Metal Parts​
Machined Plates​
Turning Parts
*** Manually quoted components are EXCLUDED​
​
How to Apply the Discount:​
A 20% discount will be applied to all automatically quoted meviy components.​
Upload 3D models​
Select quantity and surface treatment (optional)​
Press the "Confirm the Quotation Conditions" button to see the discounted price and shipping days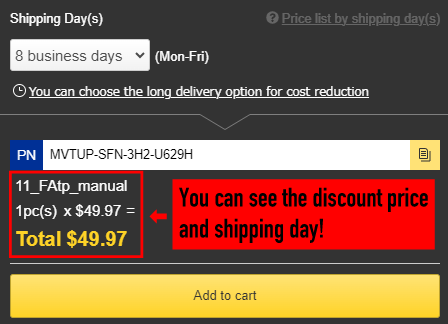 Precautions​
Manual quotations from meviy Support are not eligible for this discount.​
The discounted price for part numbers issued within the period will be applicable even after the discount period has ended.​
For part numbers that were initially issued over a year ago, prices and delivery times may change without notice due to material cost fluctuations and other reasons.​
All meviy products will be automatically shown at a 20% discount during the period.​
Part numbers issued before the campaign start date that are then issued again during the campaign period can be purchased at a 20% discount.​
Expiration date of issued part number :​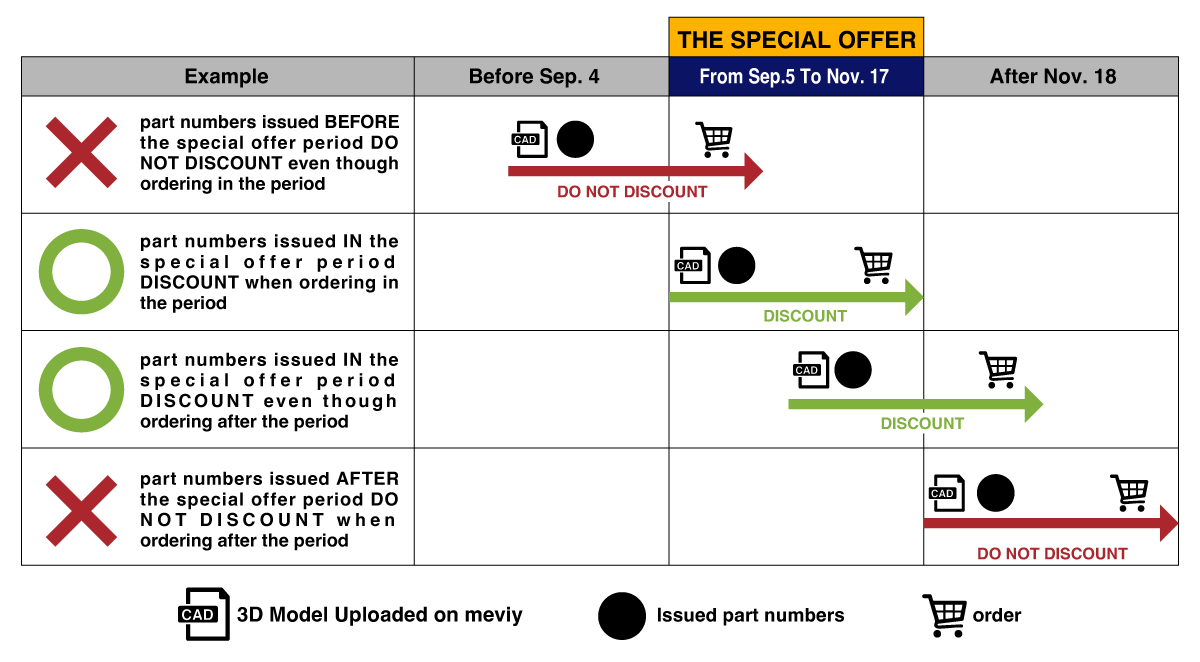 meviy customers say:
90% realized that the time was shortened, and 93% were satisfied with the quality
We regularly conduct surveys with our Japanese customers who have been using meviy for a long time. We have received high praise from customers who made quotations and orders, such as shortening the time, meeting the delivery date, and high quality