Information about manual quotation
Information about manual quotation
Even if an automatic quotation is not available on meviy, you can get a quotation using Manual quotation.
Please check the following and then feel free to make a request.
What is Manual quotation?
This is a process whereby a manual quotation will be reviewed and issued through meviy support when an automatic quotation is not available on meviy.
You can request a manual quote for the following: higher quantitiesinstructions in the comment field Holes which are marked as "Others".
Usually you will receive an answer within 1-2 working days.
* More days may be required in the event that the materials are difficult to procure.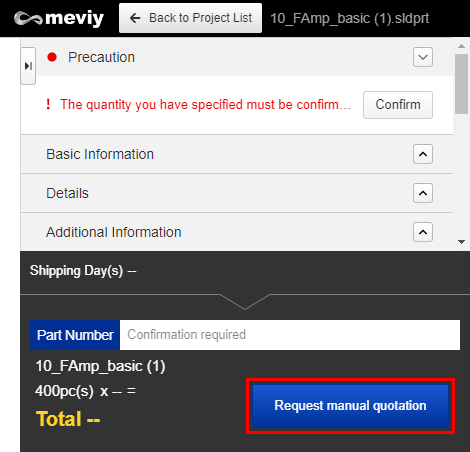 How to Request a Quotation
The "Request manual quotation" button will display when the manual quotation is available.
Please click it to make a request.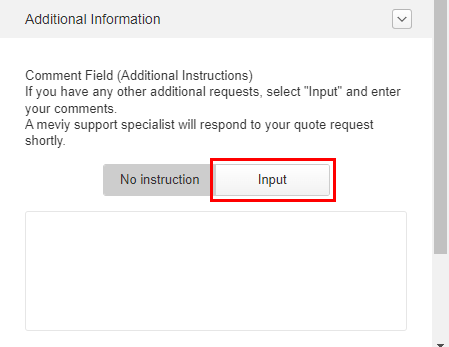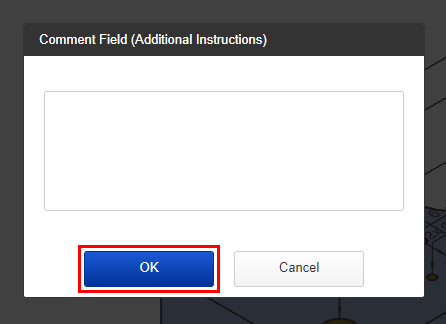 Comment Field (Additional Instructions)
Machining instructions for sheet metal parts are supported.
Click [Input] and fill in the displayed input field, then click [OK].
Caution
Machining instructions for machined plates will not be accepted.
Enter hole instructions in the next item, "Other Holes."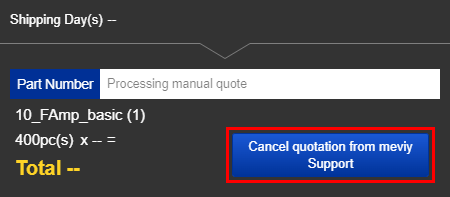 Canceling a Manual Quotation
The quotation request can be cancelled until meviy support has responded.
If the conditions have changed or the quotation is no longer needed, click "Cancel manual quotation" to cancel the request.
To request a new quotation after cancellation, click "Request manual quotation" again.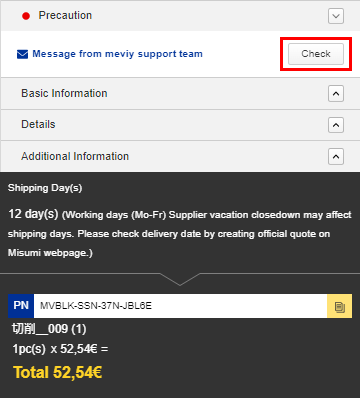 In addition to receiving an email from meviy support, the amount, days to ship, and part number will be displayed on the 3D viewer.
Also, "Message from meviy support" will be displayed if conditions are included in the quotation. Click "Confirm" to review the details.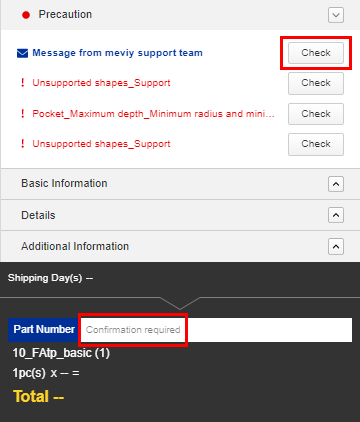 If the quotation is declined by meviy support, a message will be added in Precaution and a detailed email will be sent to your registered email address. Please check the details.
Click "Set Quotation Conditions again" to return to where you were prior to requesting a manual quotation, where settings can be changed and a manual quotation can be requested again.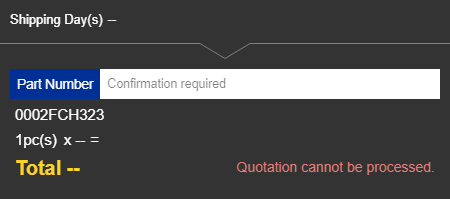 Manual Quotation Unavailable
A manual quotation cannot be requested if there is no "Request manual quotation" button.
Shape recognition may have failed. Please check the model shape and other relevant details.
If you have any questions, please feel free to contact us via mail
meviy-eu@misumi-europe.com.
Manual Quotation Experience Record
The following is a record of manual quotations have experience handling, and also elements that are not supported.
Production feasibility is determined on a case-by-case basis, even for parts that include elements that we have experience handling. The request will be declined if it is not possible to fulfill it.
For hole specifications, please specify hole size and other details in Other Holes.
Have experience with
Unsupported elements
Quantity
Large-quantity order
–
Shipping days
–
Specified shipping days
Size
Length 2,000 mm
–
Tolerance and precision
–
Geometric tolerance specifications
–
Surface roughness specifications
–
Tolerance specifications for areas where dimensions cannot be added on meviy
–
Tolerance range specifications of 0.04 or lower (except for fitting holes)
–
Gloss specifications
Material type and surface treatment
–
Material type and surface treatments not selectable for automatic quotation
–
Basecoat specifications
–
Film thickness specifications
–
Partial surface treatment specifications
Heat treatment and hardness
–
Heat treatment
–
Hardness specifications
Holes
Metric threads not covered by automatic quotation
Left-hand thread
Tapered threads for pipes
Unified thread
Straight threads for pipes
Hole depth tolerance specifications
Flat hole base specifications
Angled hole running diagonal to the 6 faces on meviy
Non-selectable fit tolerance
–
Machining method
–
Welding
–
Fusion cutting
–
Simultaneous machining
–
Degreasing
–
Specifications without light chamfering
Parts
–
Mirror geometry
Certification documents
Mill test certificate (similar lots)
Cutting certificates
SDS
RoHS certificates
Inspection sheets
Frequently Asked Questions
Q. Are manual quotations more expensive?

A. Except for large-quantity orders, manual quotations tend to be more expensive than automatic quotations.

Q. Why are the conditions differ from previous quotations?

A. The quotation conditions vary as quotations are made manually on a case-by-case basis.

Q. Are discounts available?

A. No, they are not supported.

Q. Can quotations be given for Economy Shipping, Expedited Shipping and Express Shipping part numbers?

A. No, they are not supported. Only automatic quotation part numbers are supported.

Q. Can quotations be given for several quantities?

A. Please enter the quantities in the comments field and we will respond according to those quantities. We can respond regarding a maximum of seven different quantities.

Q. What should I do if I want a quicker response?

A. Please enter details such as "Please respond by xx" in the comments field and we will do our best to accommodate your request.
However, this may not be possible to accommodate, depending on the situation at the factory that checks your request. Thank you very much for your understanding.