Allowable Dimensional Tolerances
Allowable Dimensional Tolerances
No.
Standard Part
Classification of Standard Dimensions
Standard Values*
Example
Normal bending

Sheet Thickness
≦10mm
(0.3937in)

Sheet Thickness
>10mm
(0.3937in)

Sheet Thickness
≦3.2mm
(0.1260in)

1

Section with no bending
6 or less
±0.1
±0.3
±0.3
More than 6, equal to or less than 30
±0.2
±0.5
±0.5
More than 30, equal to or less than 120
±0.3
±0.8
±0.8
More than 120, equal to or less than 400
±0.5
±1.2
±1.2
More than 400, equal to or less than 1,000
±0.8
±2.0
±2.0
More than 1,000, equal to or less than 2,000
±1.2
±3.0
±3.0

2

Section with bending
6 or less
±0.3
±0.5
±0.5
More than 6, equal to or less than 30
±0.5
±1.0
±1.0
More than 30, equal to or less than 120
±0.8
±1.5
±1.5
More than 120, equal to or less than 400
±1.2
±2.5
±2.5
More than 400, equal to or less than 1,000
±2.0
±4.0
±4.0
More than 1,000, equal to or less than 2,000
±3.0
±6.0
±6.0
*General tolerance for JIS B 0408 metal pressed products: use Grade B (plate thickness≦10mm), Grade C (plate thickness>10mm). For R bend it will be Grade C.
*If a painting/coating is specified, the standard value for material conditions is used.
The allowable dimensional tolerances are applicable only for dimensions for between holes on the same face and end-faces/perpendicular-faces that are adjacent as a result of the bending.
The tolerances are not applicable for hole-to-hole or hole-to-end face dimensions on non-adjacent faces (across multiple bent sections).
Example 1) Dimensions for which allowable dimensional tolerances are applicable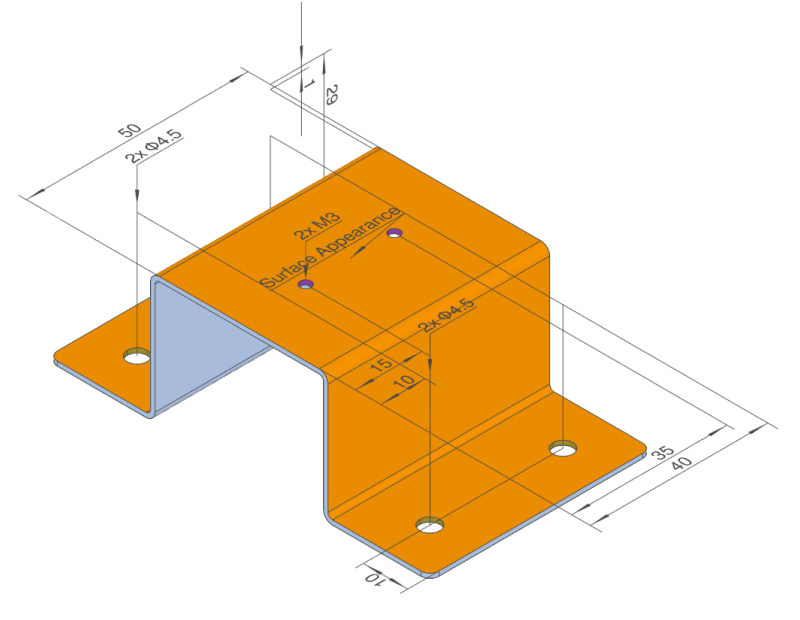 Example 2) Dimensions for which allowable dimensional tolerances are not applicable