Repeat Orders
Notes
 If you know the part number of the part you need, you can search for it using the search feature in the toolbar of the Project List screen. → "Search for a Project"
Make a Repeat Order from Misumi web order system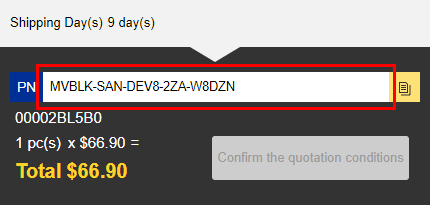 You can also use the part number issued when you placed the initial order to order the part from Misumi web order system. Once you have identified the model number as described below, please refer to "Order from Misumi web order system" to place your order.
Open the project containing the part you want to order again and check the part number on the 3D Viewer screen. The part numbers are displayed by service as follows:
Tip
You can also download a CSV parts list to check the part numbers for parts quoted on meviy.